Get the Quickest Response for Towing with J&K Salvage.
Types of Towing Services We Offer in York, PA
At J&K Salvage, we strive to provide reliable towing services you can count on, especially when you need it most. To achieve this, we provide our York area residents with a wide range of towing service options including:
Auto Towing
If you're looking for a source of capable and affordable car towing in York PA, then J&K Salvage are the experts you need to call. We offer both commercial and residential towing services throughout the York, PA area. Our skilled professionals are well-equipped with the latest tools and knowledge to help you remove all types of vehicles from your property.
Junk Car Removal
Several property owners buy homes or businesses with junk cars which they don't find any use for. If you're faced with such a problem, contact J&K Salvage towing to provide you with the most effective junk car removal services.
Heavy Duty Towing
To provide the best towing services in York PA, we offer heavy duty towing for our customers around the clock, every day of the week. Our extensive fleet of heavy trucks allows us to haul large vehicles such as school buses, motor homes, emergency trucks, construction equipment, and more out of your property with ease.
How to Have a Car Hauled Off Your Private Property
If you own a commercial business or residential property and need to tow a car off your property, J&K Salvage will require you to take the following steps:
Check for Signs
To prevent people from parking on your property, ensure your parking lot has clear and visible signage that shows that it is illegal to park there.
Contact Local Police
Afterward, call the local police who will follow the legal process of investigating and issuing a citation to the car owner. This is helpful because it creates a paper trail that can help minimize conflicts with the vehicle owner and excuses you from any towing liability.
Contact J&K Salvage Towing Company
Once the police have assured you it's fine to tow the vehicle, call J&K Salvage to help remove the illegally parked car from your private property.
Tow Abandoned Cars
We can work out the details for your unique situation, and get our signs installed to protect your parking lot from unauthorized vehicles.
We're licensed and certified with a private property towing operator's license. Thus, our trained operators can legally tow and impound a vehicle off your private property in the shortest time possible to help you concentrate on more important matters.
Who Are We?
At J&K Salvage, we strive to be the best towing service company in York, PA, and the surrounding areas. We have been in the towing field for years and cemented the experience needed to offer affordable, reliable, and quick towing services to our clients.
Our easy scheduling procedures, extensive fleet, and expert tow truck drivers make it easy for us to handle all types of customer vehicular distress.
So, if you're ever in need of any towing services in York, PA, and beyond, make the right choice by reaching out to J&K Salvage for assistance. We will ensure that you get the highest quality services no matter the time of day or the location, we're here to help.
Work with the #1 Towing Service in York, PA
Looking for a reliable and trustworthy towing company in the York, PA area?
Look no further than J&K Salvage. We offer top-of-the-line service for your car at honest and reasonable rates. Here are some reasons as to why you should choose us:
Experienced
We have been working in this industry for over 25 years. Hence, we have extensive experience when it comes to offering exceptional and professional services. Each of our drivers is certified and takes immense pride in their service skills and knowledge.
Well-Equipped
All our trucks and equipment are well-maintained. You can be assured that we'll carry out our jobs in the most efficient manner without causing any damage to your property or the vehicle.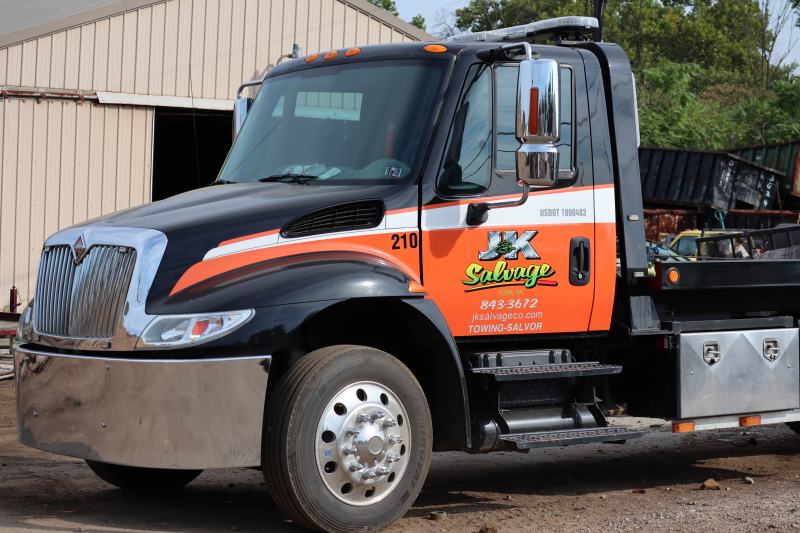 Affordable Towing
We understand that price plays a large role in whether or not you turn to the experts for your towing needs. We look to eliminate any price barriers to your decision-making process in the York area. Our prices are relatively low thus giving you the confidence to call into our offices knowing that you can afford quality service.
Friendly and Quality
Our operators are all courteous, respectful, professional, and friendly while providing our services. You'll love working with us.
Licensed and Insured
We have a private property towing operator's license and each of our tow truck operators is fully licensed and certified. They also undergo thorough Pennsylvania training laws.
Variety of Fleet Options
Our extensive fleet of trucks enables us to assist you with any of your towing needs. Whether it's a heavy-duty, motorcycle, or car, you can rely on our operators to offer quick response in York and surrounding areas.
How Much Does Towing Services Cost in York, PA?
Towing prices in York can be affected by many factors including the type of vehicle, mechanical condition, time of day, and more. Ordinarily, there is a standard hook up fee plus the price per mile towed.
At J&K Salvage, we adhere to industry pricing standards so we're able to offer reasonable and competitive prices.
Get in Touch with Our Towing Professionals in York, PA
It's important to work with a reliable towing service in York, PA to tow and release vehicles when handling private property parking disputes. We're always prepared to meet our customer's urgent needs and know all the right solutions to always get the job done right the first time.
Whether you're the owner of private property or a vehicle owner, it's essential to receive an immediate response the moment you call into our offices. This is why we ensure that our team of professionals and friendly operators are always ready for your call any time of the day.