Take Your Message Where Your Customers Are With J&K Salvage Mobile Billboards
Our Mobile Billboards Services
With a targeted mobile billboard advertising campaign, you can be sure that a significant percentage of your target audience will see your brand's message. This will help build brand recognition.
Some of the mobile billboard services we offer include:
Designing and Printing Graphics
We're ready to start working on all your graphics needs to help you make a great ad. Our high-quality production team can offer up to 8′ x 18′ single double-sided banners that are long-lasting and attractive to make your message stand out.
Driveable Billboard Trucks
If you want to take your message to where your target customers are, then take advantage of our drivable billboard trucks. We'll help you decide on a favorable route and billboard design so that your audience can see your message at the right place and at the right time.
Mobile billboard advertising shouldn't be as expensive as other traditional forms of advertising. We keep our mobile billboards low in price by offering both weekly and monthly rental options, so you're able to maximize our services to bring interest to your business or organization.
Why Our Mobile Billboards Work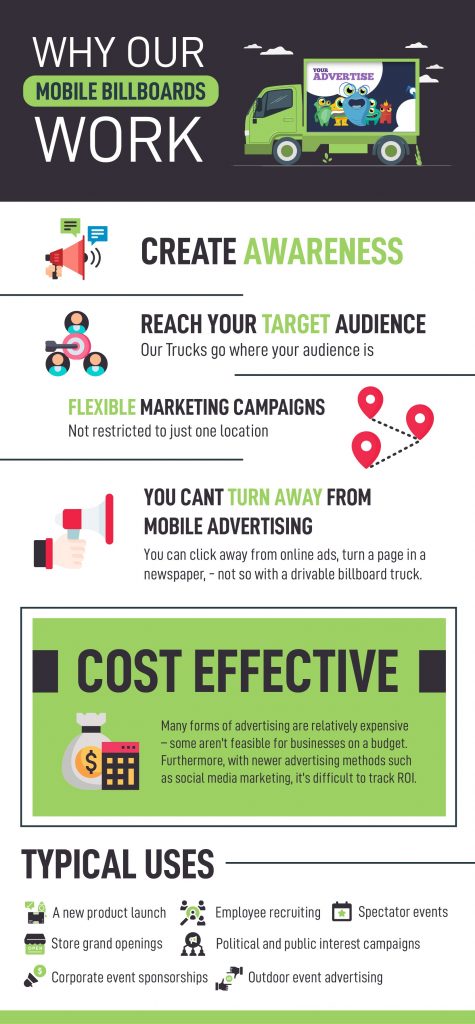 Does your business have a message to share? Look no further than mobile billboard marketing.
Here are just a few reasons why J&K Salvage mobile billboards will boost your next marketing campaigns:
Create Awareness
Our mobile billboards allow you to target several demographics simultaneously. This makes them a good option for creating top-of-mind awareness for consumers and generate a strong brand presence.
Reach Your Target Audience
Our billboard trucks go to where your audience is – you don't have to make them come to you. Your advertising message is also delivered at the most opportune time.
We have thoroughly researched the demographic and high-traffic areas in Pennsylvania. This will help you organize your route for the maximum effectiveness of your marketing campaign.
What's more, our billboard trucks can allow you to advertise on banners as large as 8′ x 18′, which are often not obscured by other traffic, offering a great deal of attention.
Flexible Marketing Campaigns
Unlike static billboards or out-of-home advertising mediums, our mobile billboards are not restricted to just one location. This allows them to easily gain the attention of people as they move from one location to another. Our mobile billboards can be re-used at a later date.
With static billboards or online ads, you don't have as much control as you do with mobile billboards.
You Can't Turn Away from Mobile Advertising
You can click away from online ads, turn the page in a newspaper, and mute TV/radio commercials. With mobile billboard advertising, however, it's quite difficult to avoid it. Your target consumers won't easily navigate away from a mobile billboard truck. You can make it stand out even more by using LED mobile billboards and speaker systems.
Cost-Effective
Many forms of advertising are relatively expensive – some aren't feasible for businesses on a budget. Furthermore, with newer advertising methods such as social media marketing, it's difficult to track ROI.
Mobile billboards are less expensive to set up compared to other forms of advertising, like TV ads, radio commercials, printed advertisements, stationary billboards.
For a successful business, choosing a cost-effective advertising method is crucial for a high ROI. But you don't want to compromise effectiveness for a low price. And this is where mobile marketing comes in.
Typical Uses of Mobile Billboards
You can use our mobile billboards in several campaigns or events to advertise:
A new product launch
Employee recruiting
Spectator events
Store grand openings
Political and public interest campaigns
Corporate event sponsorships
Outdoor event advertising
And more
What's the Reach of Our Mobile Billboard Trucks?
The effectiveness of mobile billboards is on the rise. According to Outdoor Advertising Magazine, 96% of business owners prefer mobile advertising since it is more effective than traditional outdoor advertising such as bus stop ads. Its advertising produces a 97% recall rate and is more effective in capturing customer engagement.
Why Choose Our Mobile Billboards Advertising
Professional
Our units are always kept in top working conditions, and our staff take great pride in delivering complete client satisfaction through professional skills, positive character, and readiness to go the extra mile for you. We can add exterior sound systems, public address systems, and night illumination to allow your campaign to get noticed whatever the time of the day.
GPS Tracking
We equip our billboard trucks with a GPS Tracking system to provide proof of performance. This helps us provide you with a GPS tracking report at the end of your campaign.
You can use this report to analyze the effectiveness of your marketing campaign. As a result, you can make adjustments accordingly.
Affordable
Our mobile billboards can target multiple areas within a given day, week, month, or year for a fixed low price. You don't have to break the bank with mobile billboards.
Fast Turn-Around
At J&K Salvage Advertising, we can work on all your last-minute ad campaign production and printing in-house. This allows us to get your mobile billboard ad on the road as fast as possible.
With our fast turn-around services, you'll never have to worry about getting your target audience's attention on time.
Ready to Take Your Advertising Mobile with J&K Salvage?
J&K Salvage is a reputable mobile billboard advertising company in Pennsylvania. We make mobile billboard advertisements quick and easy for you to achieve your business goals. The outcome will be a targeted advertising campaign with fast results.
Whether you're advertising a new store opening or just want to increase general brand awareness in Pennsylvania, J&K Salvage mobile billboards are your best bet. Contact our representative to find out more about our services and discuss your advertising needs today.